Dudes. Guess who is tied for lead in Short-handed goals? Guess who has three goals in the last two games? Guess who is ridiculously fucking awesome and has the best goal celebration ever because (to horribly paraphrase the Buffalo News quote) he "treats every one like it might be his last"?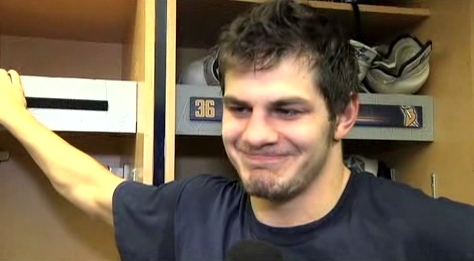 YEAH. THIS GUY.
Tonight the following exchange happened during the game:
Me: Wow, MacArthur just took the lead for Sabres goal scoring!
Dad: Yeah? Who's in the top three?
Me: MacArtuhur, Vanek, and...Kaleta!
Dad: *chokes on beer and then dies laughing*
IT IS SO CLOSE TO TRUE, GUYS.
Kaleta seems to be stepping up where Roy is sucking? I'm not the biggest Roy fan in the world. I like him, and he contributes most of the time, but this has not been his best season. And MAN does Pominville want one. He had so many fantastic chances tonight and I really hope he cashes in one one soon!, p